Restaurant QR Code Menu: Create a Stunning, No-Touch Menu In 8 Easy Steps
Do you know that 37% of diners prefer restaurants with QR code menus instead of paper menus? Not only are they versatile, but they are also safe, hygienic, and provide an inexpensive marketing solution. A restaurant QR code menu is preferred as an outstanding solution for a variety of reasons. But what is it, and how can it be set up to connect with a WordPress website? Explore this helpful guide to know all about it.
Ordering Made Easy With QR Codes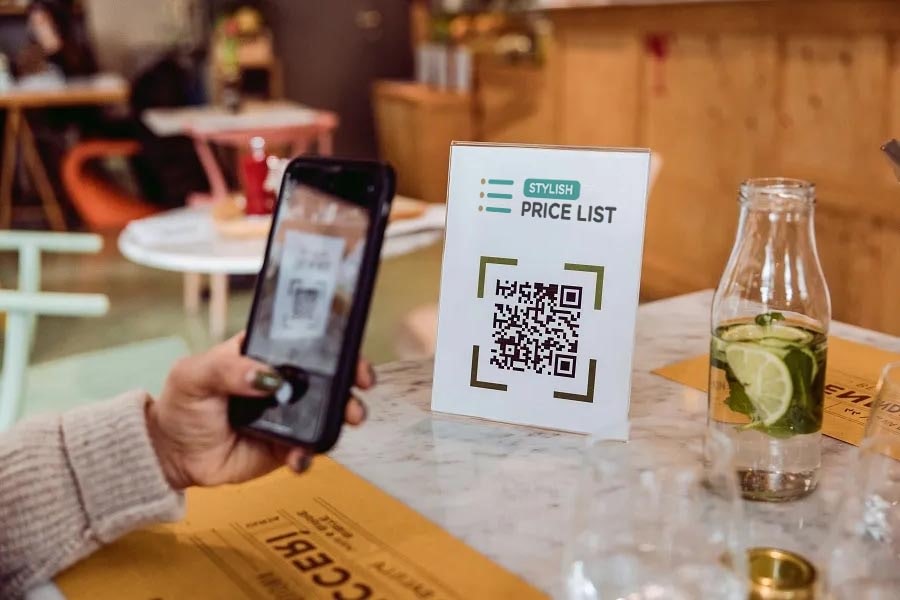 A QR code menu is super convenient to use. Your customers scan it with their smartphones, look at the menu published on the restaurant website, and order and pay for the food in a few clicks.
A few restaurants completely rely on QR code menus for ordering food. For example, Russell Jackson, the owner of Reverence, a California-style restaurant, reported that he never had a printed menu. People order food online or by scanning a QR code pasted at the front door.
Why do restaurant owners prefer contactless QR code menus instead of printed ones? It's because QR code menus have several benefits:
They are safer to use. 
They are COVID-compliant. 
You can save on printing costs. 
They are effortless to update. 
Website integration is convenient with QR codes.
Why Choose Stylish Price List For Setting Up A QR Code Menu?
1. There are 5+ pre-made design templates available for creating a restaurant menu.
2. The plug-in offers several cool features. The categories feature brings clarity to your menu. The users can quickly scan the menu and find out the type of food they are interested in.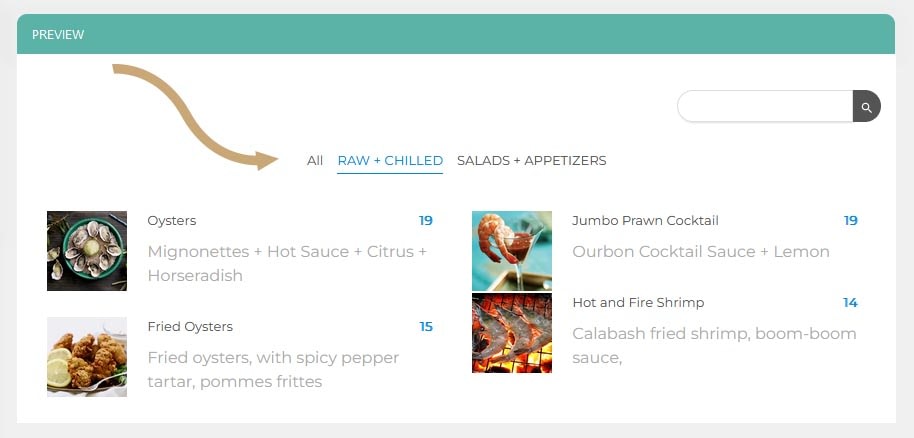 3. The search box feature allows you to find out the relevant categories and items by typing in the keyword. For example, if you type in "Nails" in the search bar, you will see the relevant items in all the templates. Just copy and edit the relevant column to complete the menu faster.
4. The Preview Tab allows you to see how your price list looks while you are working on it. This makes the editing much easier.
5. The price list can be translated and displayed in multiple languages.
6. The menu created with the Stylish Price List is responsive. It looks great on different screens.
Are you ready to build a price list on your WordPress website? Try Stylish Price List today!
Create A Winning QR Code Menu With Stylish Price List
Check out some of the cool contactless menus created with Stylish Price List.  
How To Make A QR Code Menu With Stylish Price List
Once you have installed the premium version of the software, you need to click the Stylish Price List widget and choose the "All Lists" option.
You will see the price list templates for various businesses. Check out the lists for the restaurant menu one after the other, and pick the one that you like best.
Enter Your Product Information Into The Restaurant Menu
Give a title to your price list. Add Category Name, and Description. List all the items, their price, and button text. Add as many categories as required.
Edit The Restaurant Menu With "More Settings"
Fine-tune your price list with the More Settings tab. You can change the language of your dashboard, edit the column width, category tab, buy button or title settings.
Create and Download QR Code With The Help Of A QR Code Generator
There are various QR code generators available online e.g. QR Code Generator. All it requires is the URL to your web page where the menu is published. This is how you can create and download a QR code leading to your web page in no time.
1.  Copy the URL of your web page where the restaurant menu is published. Enter it into the QR code generator to generate a QR code.
2.  Download the image of the QR code into your computer. You can choose either of the .png, .svg, or .eps formats while downloading. These formats have transparent backgrounds, which makes them ideal for integrating into other documents and designs.
Display QR Code in Restaurant
Insert the QR Code into documents or graphic designs. Add those designs or documents in restaurant windows or other places where the guests can quickly scan and browse your menu. 
The designs can then be printed on tables, in restaurant windows, or in any other marketing materials that guests may use to scan and browse your menu. 
Are you ready to build a price list on your WordPress website? Try Stylish Price List today!
Tips To Create And Use QR Codes
If you are a restaurant owner, you might be wondering how to use it in your restaurant. Here's a step-by-step guide to use it efficiently. 
QR code menus are still a new concept for some people. If you want to make them a norm, make them easily accessible. Place QR codes at the most prominent places in the restaurant. It is a good idea to make multiple copies of QR codes to be placed on each table. This way, customers are likely to reach out for the QR code when they sit at their table.
We know that QR codes are great, but they're not perfect. They can wear down over time, and if you're not careful, you can ruin them completely.
Luckily, there's an easy way to keep your QR code clean and reusable: laminate it!
Laminating your QR code means that you'll be able to use it on multiple surfaces, meaning no more fingermarks on the paper or smudges that make the image unreadable. In addition, laminating will prevent your QR codes from fading or getting damaged by water. 
3. Make Them Convenient To Use
QR codes are great because they allow you to make menus convenient.
The QR code document should include instructions on scanning the code to see the digital menu on the web page. Consider making it a CTA (Call to Action). Remember that QR codes may seem confusing to a few people. Even tech-savvy customers might find them confusing when their mind is already engaged in talking to friends or having fun.  Instruct the restaurant staff to explain how to use the QR code menu to new customers. This way, everyone can easily use them.  
4. QR codes For Self Serving Ordering
The restaurants that offer self-serving or take-away services can equally benefit from QR code menus. They should make QR codes accessible by placing them on the door, welcome counter, or take away window. This way, people can view the menu conveniently, use self-serve ordering, and then pay for their meal when the food is ready. 
5. Ensure That The Technology Works
QR codes are a handy tool for getting people into your restaurant. But they're not always so simple to use. 
Even if you've been doing them for years, there are still a few things you can do to make sure QR codes go smoothly. Here are our top tips: 
Print out a few menus for the people who don't want to or can't use QR codes. There might be a few customers who don't have a smartphone or are having issues with cell phone batteries.  
You might want to put the restaurant's Wi-Fi password on the QR code document for the people who don't have internet service on their phones. 
Make sure that the menu works on phones. Choose the file format that is mobile responsive. 
Be sure that the menu loads quickly. Use small file sizes, especially for images, so that your customers don't have to wait to see the menu.
Add pictures to your menu items to make them more interesting to look at. This could also speed up the order process and make it self-explanatory. This way, servers don't have to answer lots of questions.
Make your menu user-friendly. Remember that the people are here to order food, not to look at promotions, ads or offers. 
Are QR Codes A Fad Or A Future?
QR stands for "quick response." A Japanese Engineer invented QR codes in 1994 to keep track of car parts. As smartphones became more common, the popularity of QR codes increased too. In 2018, Apple introduced a QR code scanner into the camera of their phone and using them became more common and easier. 
During the pandemic, people were looking for contactless ordering of food in bars and restaurants. QR code menu came out as a solution. 
Physical menus were replaced with digital menus. WordPress QR codes were being used for accessing those digital menus. 
QR codes are the new normal, not only in Canada and US but in the whole world. Let me share my personal experience. Last year, I went on a holiday to Europe. Whenever I sat down for dinner in a restaurant, I would crane my neck to make eye contact with a server. 
But after a little while, I would remind myself that the menu isn't the menu; it's the pixelated square in the middle of the table. You can find dozens of these everywhere in various restaurants these days. 
How Do Restaurant Diners Feel About QR Codes?
If you are not utilizing QR codes for ordering food in your restaurant, you are missing out a lot. The following statistics prove the point:
Bitly, a software company, reports that their QR downloads have increased to 750% between 2021 and 2022. This shows that not only restaurants but many other businesses are using QR codes for selling their products. 
52% of restaurants in the US have started using QR menus, and the number is expected to grow fast.
87% of consumers in a survey reported that they prefer those restaurants which try to reduce carbon footprint by going paperless and offering transparent pricing. Naturally, they would like to pick the restaurants where they could order through QR code menus. 
In 2020, a survey was conducted in the US and UK to find out about the user experience of QR codes. 46.75% of people agree that QR codes make life easier in restaurants.
Using QR codes for ordering food is quite common these days. They have several benefits such as improving user experience, hygiene, saving costs on printing and faster delivery of the food. It is very important to set it up properly so that it can be used as a tool for improving customer service.